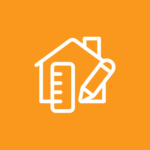 In the field of civil and industrial construction, Gruppo Ingegneria Torino is able to provide specialist consultancy at all levels and of different types.
In the Construction and Architectural Sector we offer integrated consultancy with design activities that are divided into various phases starting from the active involvement of the client, in order to define objectives and specific needs.
The technical and economic study of materials suitable for energy saving and environmental comfort lays the foundations for the development of the subsequent design phases up to the executive phase complete with special contract specifications and detailed metric calculations.
The Sector pursues the Group's strategy strongly oriented towards the research and development of technologically innovative solutions through the use of a BIM platform designed to provide our Clients with a useful product to govern all processes at any stage, ensuring precise control and monitoring of the execution of works.
Gruppo Ingegneria Torino has invested in the world of BIM design believing firmly in the potential of this method and creating a group of BIM operators constantly supported by senior designers from different fields.
The organisational structure and the skills acquired mean that the Construction Sector works across the board with all the other sectors in the Group, such as, for example, the Structures Sector, the Civil and Industrial Plants Sector and the Safety Sector, guaranteeing that project choices are always supported by a careful analysis of feasibility and risk.
Giuseppe Innocente, Salvatore Satta, Fabio Testagrossa, Elena Ongaretto, Giuseppe Battistutta, Donato Pierro,  Stefano Caramuscio, Chiara Debernardi, Francesco Pace, Marco Tiritan
The Building Sector of Gruppo Ingegneria Torino, through a continuous exchange of competences and professional synergies to support our Customers, where necessary avails itself of the collaboration of firms and companies with specific and recognized skills.
Integrated design in all phases (Preliminary, Final, Executive)
Cost/benefit analysis of internal and external deployments
Study of building materials for the optimization of energy saving and verification of thermal transmittances
3D analysis of the interventions, with photo inserts and video simulation of the finished intervention
Land register paperwork
Acoustic surveys and numerical analysis for acoustic comfort and acoustic impact assessment
Consultancy on Passive Acoustic Requirements
Construction management and assistance
Construction accounting
Assistance to the tests on site and post–work
GE AVIO S.p.A – LEONARDO GLOBAL SOLUTIONS S.p.A – LEONARDO S.p.A. – TRM S.p.A. Trattamento rifiuti metropolitani – LUIGI LAVAZZA S.p.A. – eDF Fenice S.p.A. – COLLINS Aerospace S.p.A. – IREN S.p.A – Various public bodies throughout Italy (Regions, Provinces, Municipalities) – Operators, Consortia and Companies of various kinds and purposes
Latest news and updates
News on Construction
Gruppo Ingegneria Torino participates in the redevelopment and transformation of a building, currently used as offices, into a coffee research and innovation centre…
OICE is a trade association, member of Confindustria, recognized at institutional level, that since 1965 represents and protects in Italy the Italian Engineering,…
Today Gruppo Ingegneria Torino is 6 years old. In these years we have grown a lot, investing in personnel, training, innovation, quality, research and development,…