Structural executive design for the construction of a new Clean Room in the FDGS2 area of the Transmissions Department, inside the GE AVIO AERO production plant in Rivalta di Torino (TO).
The Executive Project foresaw the realization of a structure in metal carpentry to support the building components and the systems aimed at the creation of a compartmentalized environment, called Clean Room, realized in compliance with what is foreseen by the ISO 14644 regulation and falling within Class 8 of the abovementioned regulation.
The work, carried out inside the GE AVIO AERO production plant in Rivalta di Torino (TO), is based on reinforced concrete plinths, suitably connected to the existing industrial flooring.
The main objective of the choice of the structural scheme was the versatility of the structures with respect to the complex plant systems serving the Clean Room.
The columns are made of square box-shaped profiles, on which the flat metal roofing supports the various machines (mechanical manipulator, overhead crane).
The connections are made by means of bolted and welded joints according to precise rules of execution and control, as well as the quality of the materials.
The false ceiling system has been designed in order to allow the passage of the ventilation systems required to guarantee the ISO 8 level of the ISO 14644 standard inside the rooms.
LOCATION: Rivalta di Torino (TO)

STATUS: Works completed, works tested
Nuova Clean Room in stabilimento produttivo
Nuova Clean Room in stabilimento produttivo
Il cantiere – Nuova Clean Room in stabilimento produttivo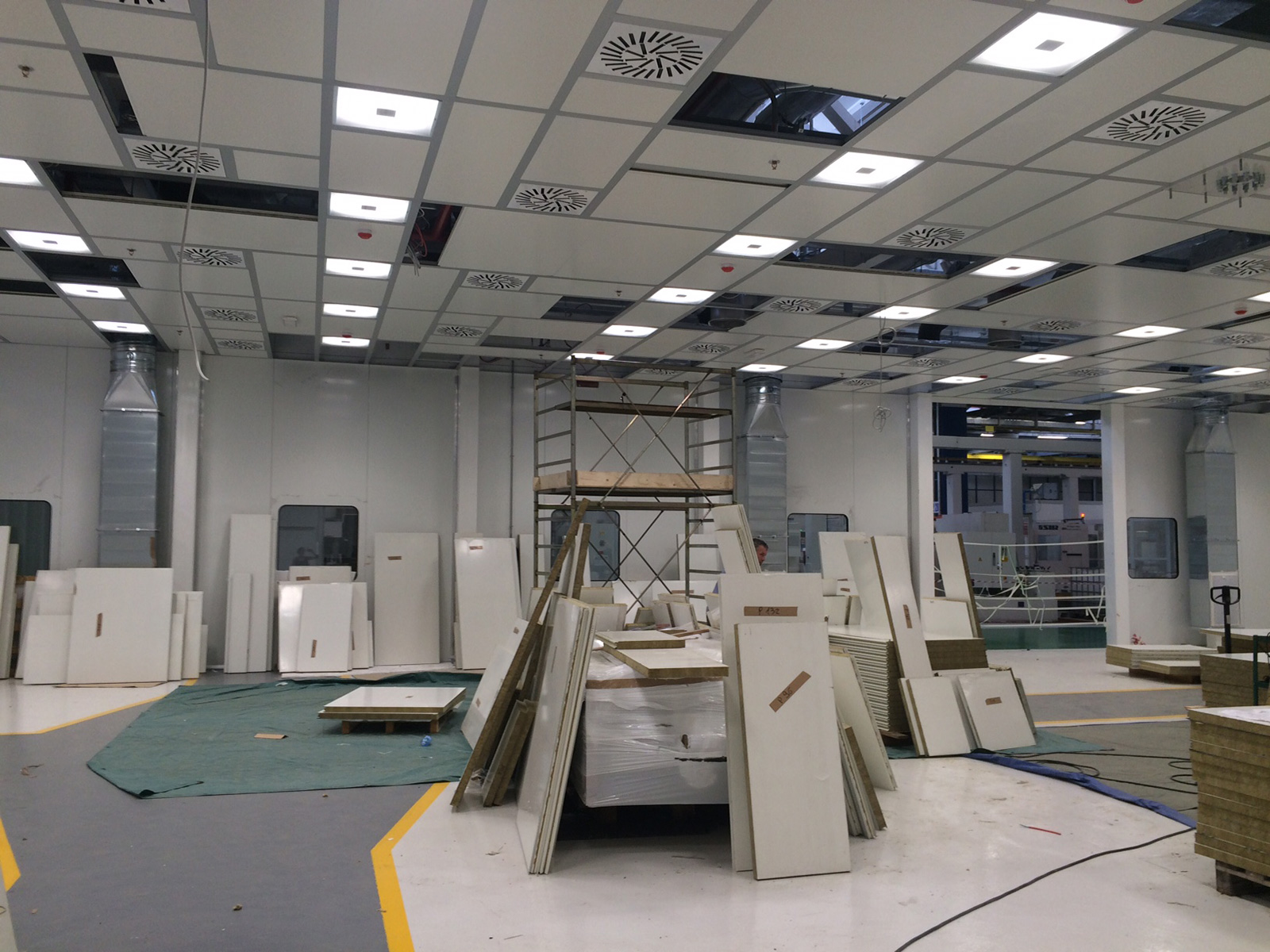 Il cantiere – Nuova Clean Room in stabilimento produttivo
Modello – Nuova Clean Room in stabilimento produttivo
Estratto tavola di progetto – Nuova Clean Room in stabilimento produttivo
CLIENT: G.E. AVIO AERO

SERVICES PERFORMED: Executive design, Safety coordination during the design phase (CSP) and Execution (CSE), Management of works
TENDER AMOUNT FOR STRUCTURAL WORKS ONLY: 1.021.554,00 €

SURFACE: Floor area: 960 sqm

YEAR OF EXECUTION: 2015-2016