The Executive Project of the structures had as objective the realization of a reinforced concrete tank and of the necessary foundation structures for the housing of an aluminization furnace and of the related elevator system inside building 5 of the production plant in Pomigliano d'Arco.
The structure stands in correspondence with a pre-existing foundation plinth and an underground service tunnel, the latter identified through georadar surveys and demolished as it is the object of interference along the entire longitudinal development of the work.
In order to support the excavation fronts, an pile wall consisting of 78 micropiles was built along the entire perimeter. The piles are connected at the head by a reinforced concrete rail and covered with perimeter lining, connected to the rail, which forms the walls of the tank.
The bottom of the tank consists of a slab cast on two levels of extrados to allow the housing of a channel connected to the operation of the furnace.
The elevator system, represented by a jib crane, is founded on a plinth adjacent to the tank and attached to it.
The work is completed by the laying of the gutters with corrugated sheet metal covering in correspondence of the rail and of the bottom slab and by the installation of the metal carpentry plates, with the function of template, necessary for the housing and the correct positioning of the furnace system and of the crane.
LOCATION: Pomigliano d'Arco (NA)

STATUS: Works completed, works tested
Sistema fondazionale per la posa di un nuovo forno di alluminazione – il cantiere
Sistema fondazionale per la posa di un nuovo forno di alluminazione – il cantiere
Sistema fondazionale per la posa di un nuovo forno di alluminazione – il cantiere
Sistema fondazionale per la posa di un nuovo forno di alluminazione – il cantiere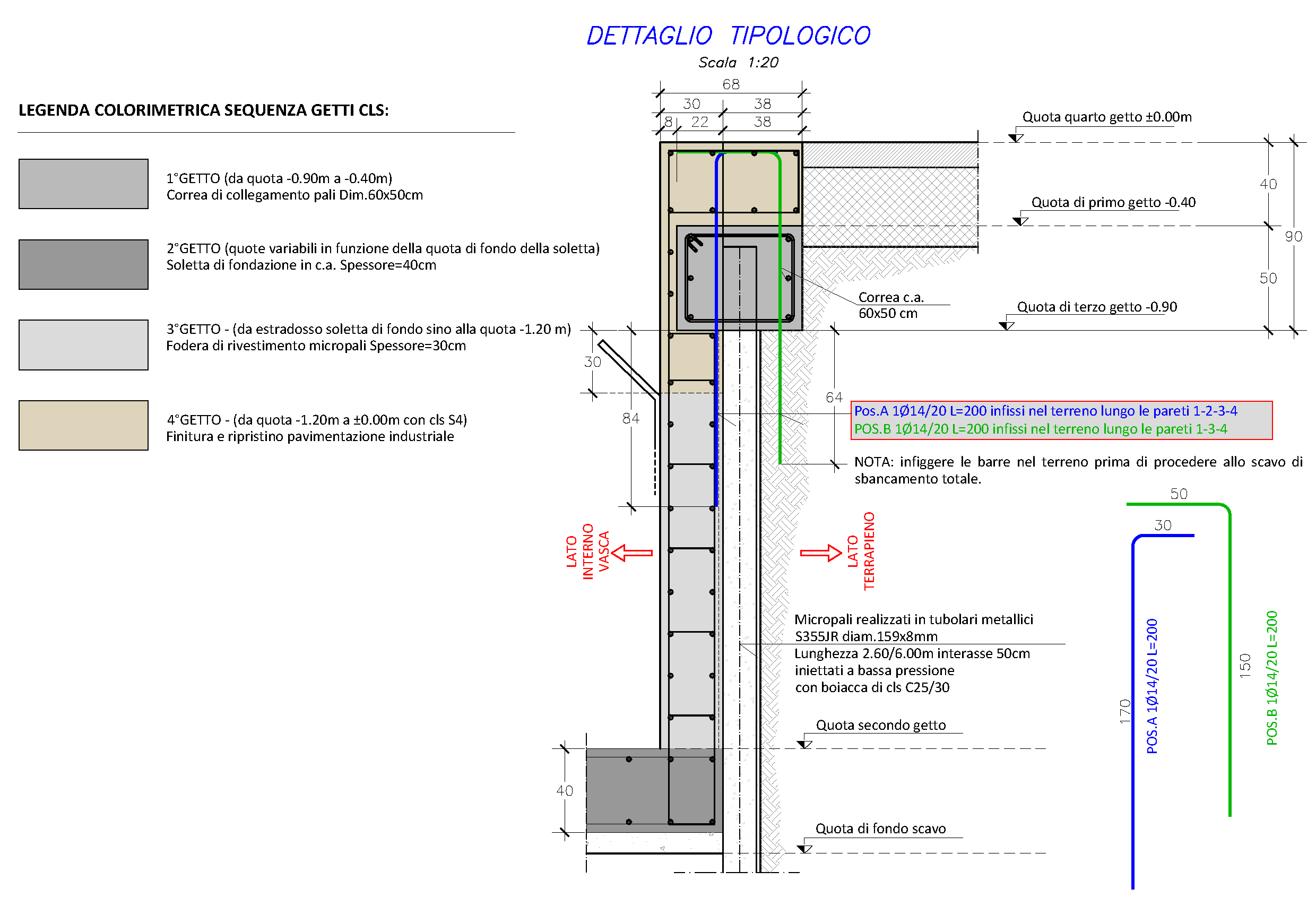 Planimetria di tracciamento micropali – Dettaglio tipologico
Sistema fondazionale per la posa di un nuovo forno di alluminazione – Modello
CLIENT: G.E. AVIO AERO

SERVICES PERFORMED: Executive structural design, Safety coordination during the design phase (CSP) and Execution phase (CSE), Management of works
TENDER AMOUNT FOR STRUCTURAL WORKS ONLY: 166.260,00 €

SURFACE: -

YEAR OF EXECUTION: 2015-2016