The structural design pursued the dual objective of achieving:
a tank for the foundation and housing of the plant with a depth of about 4 metres from the p.p.f.
the metal frame covering the tank and supporting the system.
The main work phases implemented to carry out the works were:
DEMOLITION OF THE FLOORING AND EXCAVATION for the thickness of the future connection rail to the head of the poles.
DRILLING AND LAYING OF MICRO-POLES pile wall: drilling and laying of 69 micro-poles along the subsequent excavation face with a diameter of 200 mm and reinforced with φ159×5.6mm steel tubing, placed at 50 cm intervals and varying in length between 6-8 metres.
IMPLEMENTATION OF A PROVISIONAL METALLIC RAIL: the insertion of a HEA220 metal perimeter profile was foreseen by welding to the head of the poles, in order to allow collaboration between the poles themselves during the provisional phase; the profile was then drowned in the subsequent reinforced concrete rail with a permanent function.
EXCAVATION UP TO LEVEL -4.40 metres
ARMOURING AND CASTING OF FOUNDATION SLABS: a reinforced concrete base slab 40 cm thick was created after laying the 10 cm thick layer of lean concrete. Irons have been foreseen for the realization of the subsequent lining
ARMOUR AND CAST ELEVATIONS: construction of the reinforced concrete lining 20 cm thick and the central reinforced concrete pillar 60×30 cm in size to support the system
ARMOURING AND CASTING OF THE PERMANENT RAIL 50×50 cm connecting at the head of the poles
LAYING OF A METAL FRAME to support the shot blasting machine, doweled to the reinforced concrete walls and to the final rail; the main profiles making up the frame are as follows:

10 IPN400 profiles
4 HEA400 profiles
Metal grating in 70×3 plates arranged in 25×76 mesh and frame in corner profiles.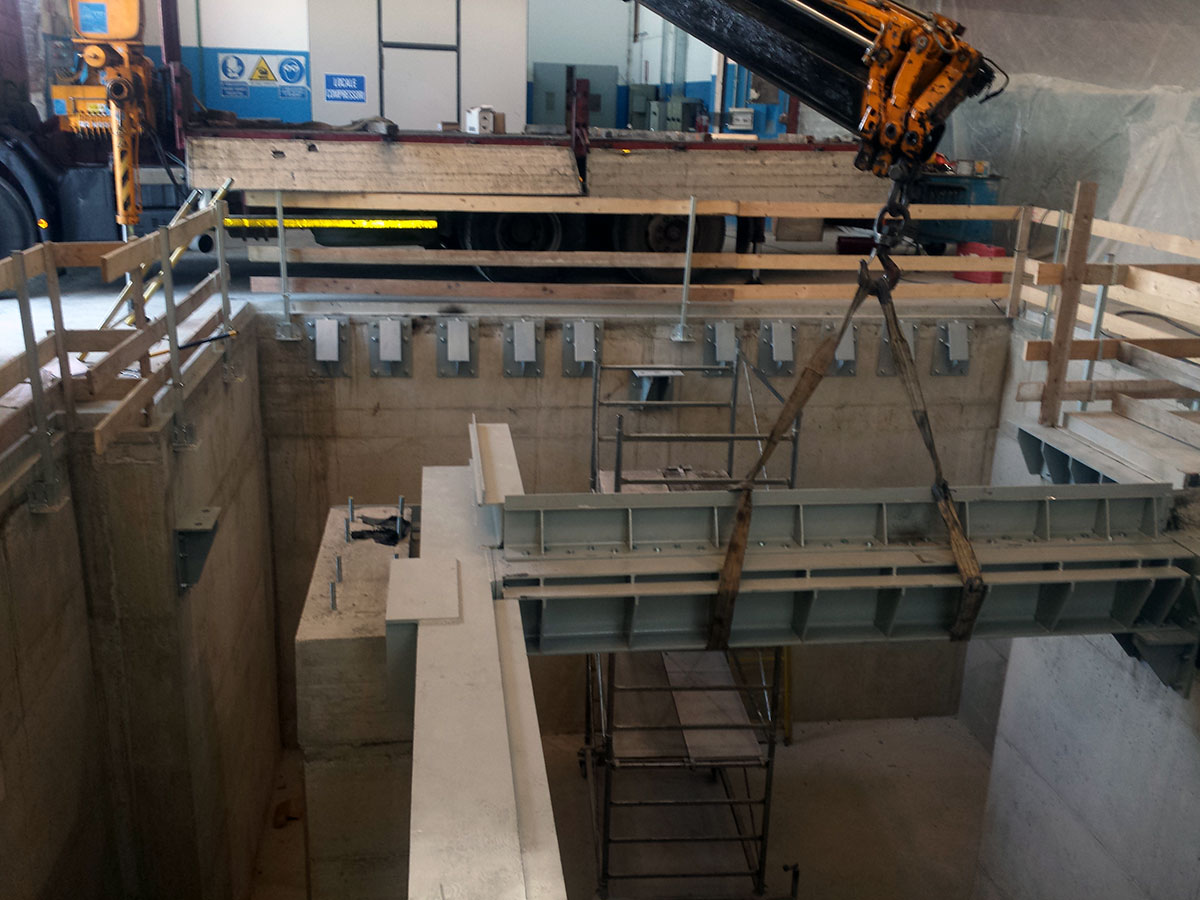 CLIENT: Getti Speciali S.r.l.

SERVICES PERFORMED: Structural Executive Design, Management of works, Safety Coordination
BASIC AMOUNT OF THE TENDER: 182.810,20 €

SURFACE: -

YEAR OF EXECUTION: 2014/2016