Professional services related to fire resistance verification, design and fire certification of structural/building elements and design of a new sprinkler system inside the "Caroselli" department on the mezzanine floor of building D (raw) of the LAVAZZA plant in Turin.
The activity aimed at complying with all the mandatory fire prevention requirements regarding load-bearing structures and compartmentation elements can be divided into three distinct phases.
The first phase concerns the collection and analysis of existing fire prevention documentation (certificates, declarations and test reports) relating to the time of construction of the building and the verification of the fire resistance of the structures, through FEM analysis, based on the results of the structural investigation campaigns drawn up by GIT and previously carried out.
The second phase is aimed at the design of structural fire protection interventions and adaptation of the areas subject to intervention, in addition to the design of the elements of compartmentalisation and protection of the plant crossings foreseen in the new project.
The third phase of the entire activity consists in the Safety Coordination during the Execution Phase for the interventions foreseen for fire-prevention adaptation and the subsequent certification of the structural and compartmentalisation elements for the purposes of the SCIA Fire Brigade paperwork.
The design layout of the automatic sprinkler system was defined in two phases.
At first, the design characteristics of the system and the distribution layout of the sprinkler system were defined. This phase was aimed at defining the planimetric distribution of the main collectors and of the terminal junctions of the plant, according to the normative design requirements.
In the second phase the hydraulic dimensioning of the pipelines was carried out, only after having "frozen" the abovementioned distribution layout of the networks.
In order to manage these aspects more effectively, the project was drawn up using the Building Information Modeling (BIM) methodology. Once the structural model of the building was created, the MEP (Mechanical, Electrical, and Plumbing) model creation phase was started, which includes the plant in question and the definition of the architectural part, identifying spaces and encumbrances of the construction part. In this way it was possible to define a plant layout that would limit interferences with structural elements and have a global 3D vision of the whole plant.
LOCATION: Settimo Torinese (TO)

STATUS: executive design completed, awaiting start of works.
Estratto di tavola: Placcaggio e protezione degli elementi strutturali portanti
Estratto di tavola: Placcaggio e protezione parete di compartimentazione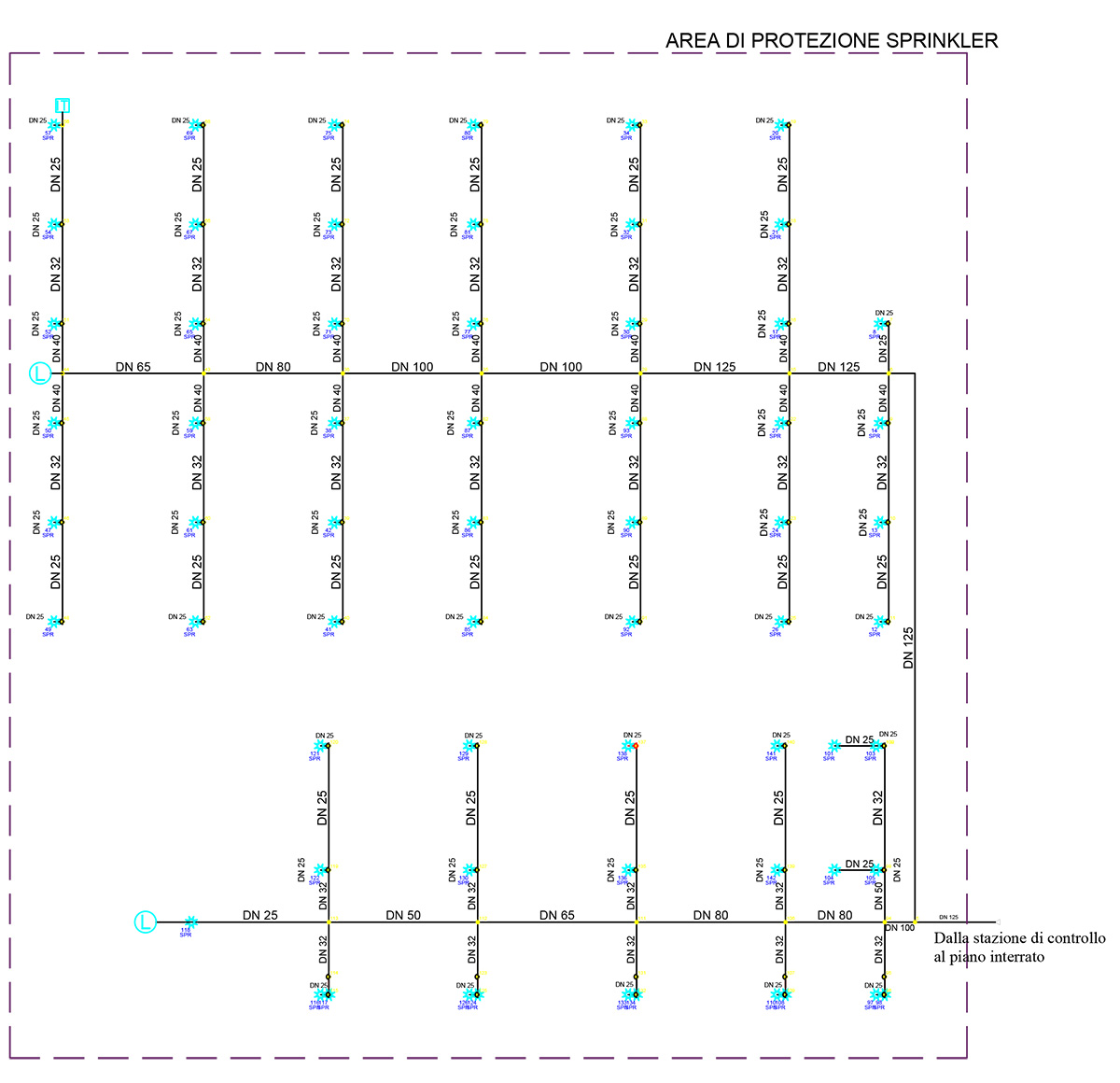 Estratto di tavola: schema flusso
CLIENT: Lavazza SpA

SERVICES PERFORMED: Executive design, Safety coordination during design phase (CSP), Management of works and Safety coordination during execution phase (CSE)
AMOUNT OF WORK: 100.000 € approx.

SURFACE: 700 mq

YEAR OF EXECUTION: 2020