The IdroPrev© Meteo-Hydrological Model applied to the Bormida river basin of Millesimo was presented at the Unione Montana Langa Astigiana Val Bormida (UMLAVB).
Gruppo Ingegneria Torino was commissioned to provide the UMLAVB territory with the forecasting service of flood events of the Bormida river of Millesimo, by means of the IdroPrev® Meteo-Hydrological Model, in order to implement a forecasting, monitoring and predicion system of the intense phenomena that could have Civil Protection implications along a long stretch of the Bormida river of Millesimo within the municipal territories of: Vesime, Cessole, Loazzolo, Bubbio, Monastero Bormida, Sessame and Bistagno.
Following in-depth research and analysis in the meteorological, hydrological and hydraulic fields, GIT has prepared a distributed forecast model called IdroPrev®, which allows to know with high precision the expected rainfall up to 7 days in advance; the model also provides additional numerical parameters such as the fraction of snow, temperature at different altitudes, snowmelt, evapotranspiration that contribute to the definition of the hydrological model of transformation of inflows-deflows, obtaining the expected flood waves on watercourses, both in terms of flow rates and levels.
The values determined through the application of the model are comparable with those measured at the hydrometric stations of the regional networks, providing a timely and statistically very reliable forecast of the expected flood waves.
Thanks to the IdroPrev® meteo-hydrological model, GIT provides the service of 7-day and 3-day forecasts of weather phenomena, through the Maps of cumulative precipitation, and the consequent formation of flood waves. This system of forecasting and monitoring of the phenomena provides the interested bodies with useful information for the management of the emergency by the same, in the light of the recent national Civil Protection regulations.
Thanks to the use of the IdroPrev© service and the possibility to know in advance the critical meteorological phenomena, the Administrations will be able to achieve an optimal management of their own territory in the event of particularly intense flood events.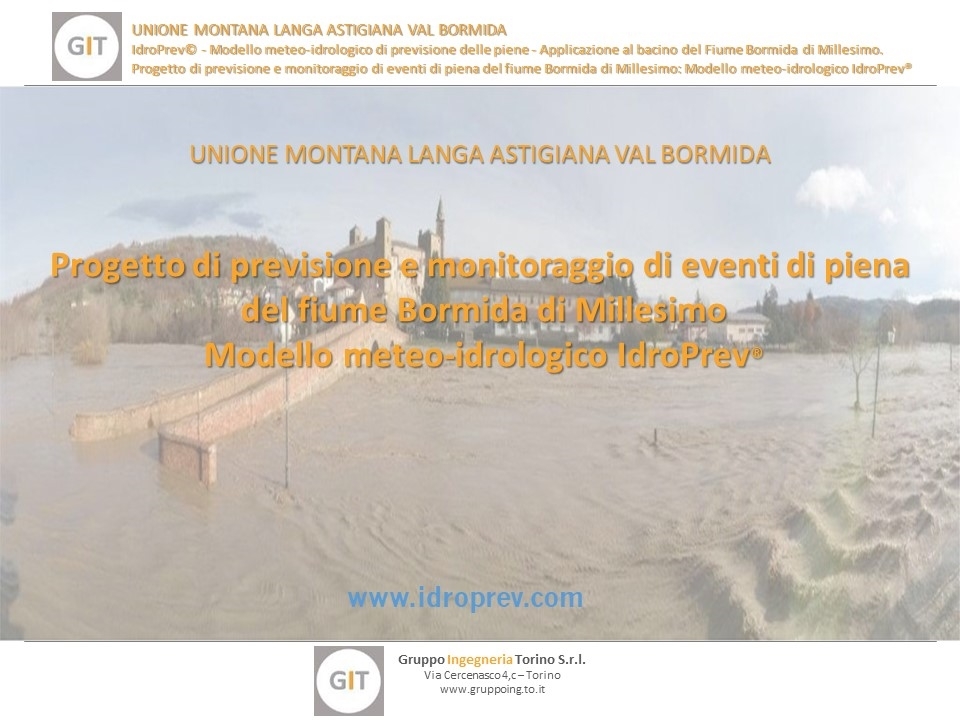 Related posts